GIO Stadium Canberra has all the latest equipment to support and enhance your event of function. This includes 'THE BIG SCREEN' used for all major match games.
RANGE OF EQUIPMENT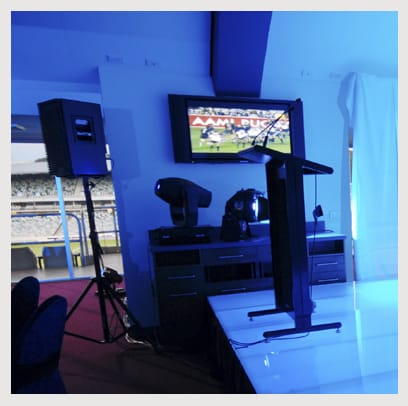 Our range of equipment available for hire includes:
data projectors
overhead projectors
projector screens
electronic whiteboards
easels with flip paper
digital cameras
PA systems
microphones
lecterns
portable stages (2.4m x 1.8m)
106cm widescreen plasma televisions
drop down projector screen (Rugby Lounge only)
wireless broadband connection (high speed).
THE BIG SCREEN
Unlike any other venue in the capital, you have the exciting opportunity to hire 'THE BIG SCREEN' for your event or function at GIO Stadium. It's a 'wow-factor' advantage and a thrilling way to showcase for your product launch or conference.
We offer a full production service with 'THE BIG SCREEN', including:
audio mixing
camera and camera operator
design services
digital editing
footage compilation
live production
mixing on the day.
ON SITE SUPPORT
GIO Stadium has its own ih-house technology group who can assist in many ways to ensure your function requirements are met.