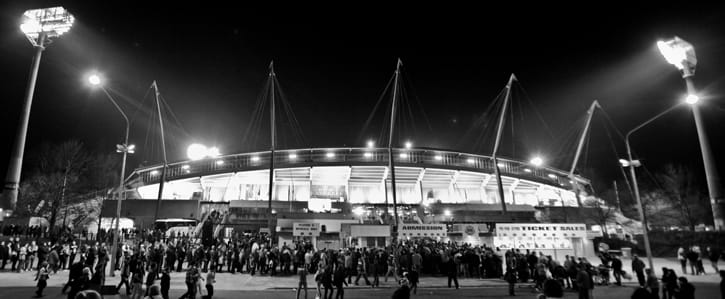 Canberra Stadium was originally named Bruce Stadium, built for the 1977 Pacific Conference Games. The original seating capacity for the Stadium was 8,000 in one Grandstand on the West.
With the announcement of the 1985 World Cup Athletics Games, the Stadium underwent its first redevelopment. New seating was fitted on the East side, increasing the capacity to 11,500, and a new synthetic running track was installed. In 1990 the Stadium was upgraded with Corporate Facilities and the running track was re-located to what is now the Australian Institute of Sport Athletics track.
The stadium played host to the World Youth Soccer Cup in 1981 and the World Cup Athletics in 1985. In 1990, the stadium was upgraded and the running track removed. The Canberra Raiders moved to Bruce Stadium the same year.
In 1997, with the ACT being awarded the preliminary rounds of the Olympic Football, the Stadium proceeded into its complete redevelopment. This saw the redevelopment of the East Stand, the dropping of the playing surface, the addition of bowl seating (increasing seating to 25,000), which then made the playing surface rectangular and finally an upgrade of the roofs on both the grandstands.
Canberra Stadium hosted a number of matches of the Rugby World Cup in 2003, the Masters Games in 2003 and a pre-season match for the A-League in 2006 (Soccer).
It continues to play home for the Brumbies, Canberra Raiders, ACT Junior Rugby Union and League Grand Finals and the Kanga Cup series.  In 2013, Canberra Stadium hosted for the first time in the nation's capital, a Rugby League Test match. This took place on April 19th between New Zealand and Australia with Australia proving to dominant for the visitors and securing the victory. This test match was part of the broader sporting extravaganza in 2013 for the Australian Capital Territories century birthday celebrations.
Today, Canberra Stadium stands as a testament to quality, technology and service. The installation of the Video Replay Board in 2000, the Motz Turf system and the upgrade of the Corporate facilities and lounges has made Canberra Stadium one of the most finely appointed Stadiums in Australia.
In 2014 Canberra Stadium unveiled a new exciting partnership with a new stadium sponsor; GIO insurance,  and the Stadium changed its official name to GIO Stadium Canberra. The stadium will continue to host exciting Rugby League and Rugby Union matches for many years to come.