Sponsorship though GIO Stadium Canberra is much more than large signs and giant screens, it is a unique avenue which allows your brand to permeate the fond memories and and quality experiences shared by thousands of visitors and guests.
Just like our highly valued naming rights sponsor GIO, as a stadium sponsor, you have the opportunity to communicate with and leave lasting impressions on a diverse range of audiences in-house and Australia wide. Share your message with die hard supporters as they brave the cold, our corporate partners as they cheer in style and all the fans as they watch from home!
These people are the lifeblood of the stadium and we welcome you to join us in facilitating the unique experiences and life long memories that are created and shared with us here at GIO Stadium.
Want to know more about sponsoring the venue or about the stadium?
See your brand here!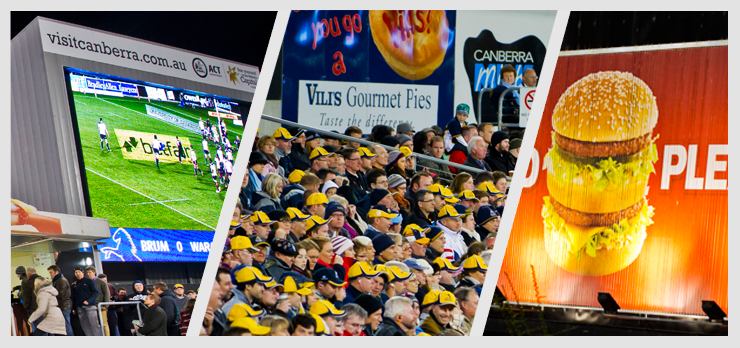 GIO Stadium Canberra offers a variety of sponsorship opportunities to suit all businesses. Our primary forms of sponsorship include:
Big Screen Signage
Fixed Signage, and
E-Signage
Why Advertise through GIO Stadium Canberra?
Stadium sponsorships are unlike conventional forms of advertising as they allow brands to quickly and effectively communicate with diverse audiences of thousands.
Previous NRL and Super Rugby seasons at GIO Stadium have attracted in excess of a combined attendees of 240,000 and a television audience of more than three million.
GIO Stadium also frequently hosts special events –  including the Monster Energy Super X Australasian Supercross Championships, Qantas Wallabies, Rugby League World Cup, Nitro Circus, Qantas Socceroos and more –  all of which attract tens of thousands of attendees and millions of television viewers.
Canberra Stadium sponsors reach audiences through:
Direct advertising by the venue itself
Direct impressions received by people attending events
Miscellaneous non-paid mentions in newscasts and articles
TV and radio coverage of events at the venue
Additional advertising by event promoters
Word-of-mouth
The Benefits of Stadium Sponsorship
There are generally five principle objectives of sponsorship:
to gain publicity
to create entertainment opportunities
to foster favorable relationships and build associations
to assist the community and
to create promotional opportunities.
Sports sponsorship is a medium that offers high visibility through extensive radio, television, press and online coverage of events – often at a fraction of the cost of team or player sponsorship. Through stadium sponsorship a brand can claim ownership of the experiences of the audience and the relationship values of businesses related to the stadium if this is in line with the positioning of your brand.
Stadium sponsorship will give your brand extreme visibility and any indirect benefits can include a higher level of favorability amongst the community – having the ability to break through cultural barriers – with the ultimate aim of increasing sales for your business.