NRL 2019 – Raiders v Rabbitohs – Finals Week 3
September 27, 2019 - Gates Open at 6:00 pm

- Kick-off at

7:40 pm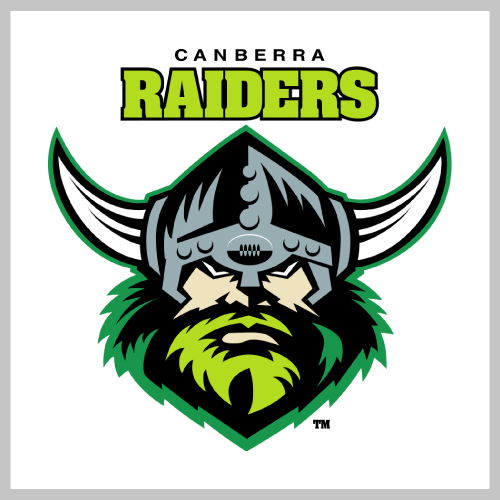 Please check this page just before the match to ensure you have the most up to date information.
The Canberra Raiders website has a Game Day Guide (available here) that may prove helpful with your attendance at the game.
Times:
Gates Open:        6:00 pm
Kick-Off:               7:40 pm
Ticketing: 
The game is officially SOLD OUT.  Please be aware that Ticketek is the only authorised ticketing agent for the match.  Please be wary of purchasing "unneeded tickets" via social media or from  3rd party on-sellers such as Viagogo, E-Bay, Gumtree etc.  Please go to the box office if you experience any issues with your ticket.
Getting to and from GIO Stadium:
Free Buses –  Free chartered bus services depart from Tuggeranong, Woden, City, Belconnen and Gungahlin interchanges. For more information and schedules visit the Q-city website at: qcitytransit.com.au/bus-news closer to the date. Buses will drop off and pick up at the EAST GATE ONLY.  If you are staying close to a major centre or plan on heading out after the match, catch the bus to and from the venue for free!
Buses on regular Transport Canberra routes will also be free after 4pm upon presentation of your ticket.
Driving – Limited public parking is available at GIO Stadium car parks for $10 per vehicle payable by CASH ONLY on a first come, first served basis.  Updates will be sent via GIO Stadium social media accounts when the car park is close to full.  Patrons seated in bays 22 – 32 and bays 62 – 76 are recommended to park in the EAST carpark.
On street parking is also available in the areas surrounding GIO Stadium and at CIT.  Overflow parking is available at the University of Canberra accessed via College St.  Buses will have some capacity to pick up patrons from bus stops on College St.  Otherwise it is a 20 minute walk to the stadium from UC parking areas. Please park legally and be mindful of residents when leaving.
For more information or to download the parking map visit the Travelling to GIO Stadium page.
Please Note – Parking inspectors may be active!
Park legally
Do not park on nature strips
Parking is limited – arrive early
If parking in the surrounding area, please be respectful of residents
Parking is $10, payable by cash only ($7 prior to 6:45 pm)
If you have a disability parking pass, please ensure this is displayed appropriately
Dropping Off and Picking Up – Drop off and pick up areas are available on Leverrier St in front of the AIS Visitors Centre or AIS Arena.  Vehicles dropping off or picking up or dropping of patrons will need to enter via the north end of Leverrier St from Ginninderra Drive.  There is no allocated pick up or drop off area on the East side of GIO Stadium.
By Taxi – Taxis will drop off and pick up at the taxi rank outside the WEST gate only. Taxis are not permitted to drop off or pick up on the East side of GIO Stadium.
By Rideshare / Uber – Drop off and pick up areas are available on Leverrier St. in front of the AIS Visitors centre or AIS Arena. Use "AIS Arena" or "AIS Visitors Centre" as your destination and pick up location,  PLEASE DO NOT use "GIO Stadium" due to traffic controls in place on match day. There is no allocated pick up or drop off area on the East side of GIO Stadium.
Traffic and General Information – Please be patient and drive carefully as you enter and exit GIO Stadium – traffic delays are expected. Please be aware that due to the size of this event taxi and rideshare services will likely see heavy demand, especially after the event.
Entering the Stadium:
Please have your ticket ready to scan.  All bags are subject to search and there will be express lanes for patrons without bags.  Check Conditions of Entry to see what you can and can't bring.
If you have selected ezyTickets as your delivery method, please ensure tickets are printed and you have one barcode per person.
If you have a mobile ticket, please ensure your barcode is ready to scan and the backlight on your phone is turned up.
Prohibited / Restricted Items:
Umbrellas
Aerosol Items (including aerosol sunscreen)
Glass, cans, or alcohol
Commercial Food
Professional photography equipment

PATRONS MAY NOT BRING SEATS INTO THE VENUE
Please refer to GIO Stadium's Conditions of Entry for more information
Finding Your Seat:
Please refer to venue maps located throughout the venue and follow signage to access your seat.  Customer service and security staff will be happy to help guide you.  Extra food and beverage outlets are available on the in the forecourt areas.  More information can be found on the Seating Plan page.
Food, Beverage and Stadium Amenities:
Maps and signage will be on display throughout the venue.  There will be additional bars, toilets and vendors set up throughout the venue so please take note of their locations.  Information on opening times and food choices are available here.
ATM's:
No ATM's area available at the venue – all vendors accept card payments.
Accessible Access:
Information about Accessible Access can be found on the Seating Plan page.  Customer service and security staff will be happy to help guide you.
Report It To Sort It:
We are committed to providing a safe environment for all. To report an issue, simply text Assist to 0455 883 228.  Alternately you can report issues to our security and customer service staff.
Please note that information provided is subject to change. Please check this page the day of the match to ensure you have the latest information.
NRL Finals Stadium Map: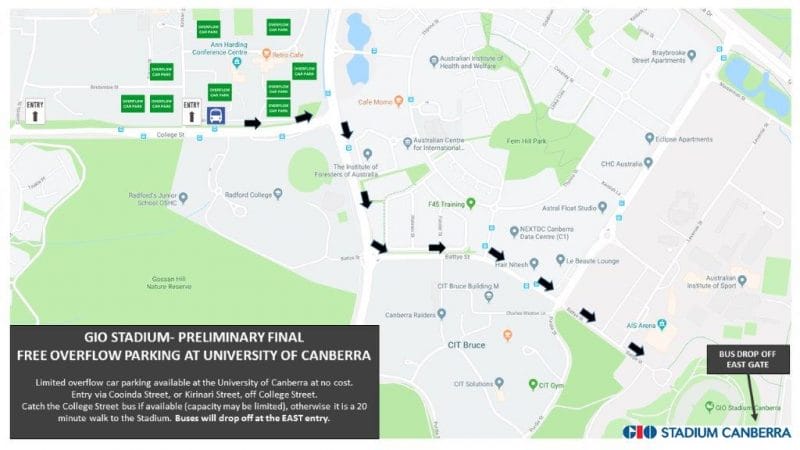 Related Events