A FUN GOLF EXPERIENCE FOR ALL LEVELS
BOOKINGS
Prices are indicative until confirmed closer to the date
Bookings from $55 + fees (booked as 2 or 4 pax).
1st, 2nd, & 3rd December 2022 from 5:00pm to 8:00pm
$109 – Adult + Junior
$119 – Two Adults
$199 – Two Adults + Two Juniors
$219 – Four Adults
Juniors aged 5-14, must be accompanied by ticketed Adult.
All golf equipment supplied, your personal caddie per group.
BOOK NOW FROM TICKETEK
(link will be activated when available)
Process Payment: Payment to be made at time of booking. An additional booking fee applies and will be added to the final cost at checkout. Bookings are non-refundable.
Confirmation: You will receive an email confirming your booking. Please ensure all booking details are correct. Review the Terms and Conditions.
PACKAGES
Book a golf and catering package from $99.00 per person, available for group of 20 or more people during weekday afternoons (for tee off between 3pm to 4:30pm).
CLICK HERE FOR CHRISTMAS PACKAGES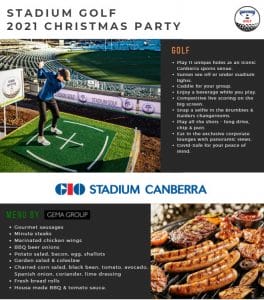 To purchase a Christmas Package, call +61 2 6256 6711 or send us an email
For Terms and Conditions including the COVID Safe Event Protocol, see FAQs.